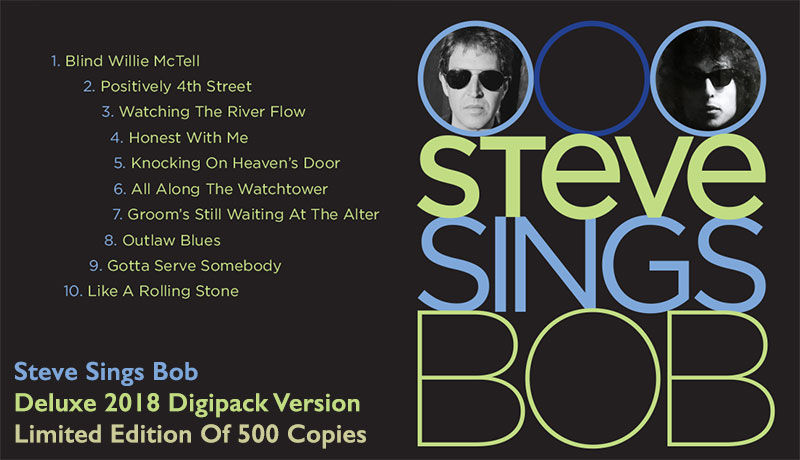 Steve Sings Bob • Deluxe 2018 Digipack Version • Limited Edition Of 500 Copies

2020-04-06
Ithaca,NY
2020-04-07
Syracuse, NY
2020-04-08
Rochester, NY, Australia
2020-04-09
Buffalo, NY
2020-04-10
Cleveland, OH
2020-04-11
Detroit, MI
2020-04-12
Chicago, IL
2020-04-13
Green Bay, WI
2020-04-14
Madison, WI
2020-04-15
Milwaukee, WI
more dates >
The first edition of this CD came out in 2009—a slipcover version of 300 that sold out in a week.
My just-finished European tour with Chris Cacavas seemed like a nice time to do a reissue—we were planning on rocking a few Dylan songs at the shows and Chris plays on several of the tracks on the CD. Edgar Heckmann at Blue Rose Records printed up 500 copies of a sleek, new 4-panel digipack version with liner notes written by yours truly to tie into the tour.
But we sold every copy we hadby the 5th show! We tried to get more. Unfortunately, the various parcels from DHL and FedEx kept chasing us all around Europe. A comedy of errors. We finally got some in Vienna, four shows before the end of the tour. There are still a few left over so grab yours before they're gone again.
US orders from Wynnweb (SOLD OUT!)
Non-US orders—from Blue Rose Records
PLUS—I just got in more copies of my "Complete Lyrics 1982-2017" book. You can order personalized autographed copies right here (SOLD OUT!) or get it from Amazon.
Thanks to everyone who came out to the shows. 26 shows in 28 days and so much fun. Chris and I have been playing together since 1982 and the bond and inspiration grows deeper with every year. We'll definitely have to do it again.
Enjoy the rest of the year—more news, music and shows coming up in 2019.
Steve Wynn